MARKUS AND ME
The T.J. Pappas Schools in Phoenix, AZ were schools whose entire enrollment consisted of homeless children. 2000+ homeless students cycled through grades K-8 each year. Part of their programming was matching children with adults to act as mentors. I volunteered, and in 1999 I was assigned to mentor a young boy. Typically they matched women with girls and men with boys, but I specifically requested a boy as I wanted my son, eleven at the time, to participate in the mentoring experience. And of course, for most eleven-year-old boys, girls have cooties!
We were assigned to Markus, a second grade African-American boy. He was one of seven children, whose father was in and out of his life and whose mother was an addict. Markus, his siblings, and his mother lived transiently, staying in one motel for two or three months before getting evicted and moving on to the next.

I will never forget our first meeting. We sat on a bench next to the playground, and for thirty minutes I told Markus about myself, my interests, my family, while constantly asking him about his. I could not get a single word out of him! I remember thinking, oh my, this is never going to work. But month after month we continued showing up, and with each encounter Markus opened up more and more.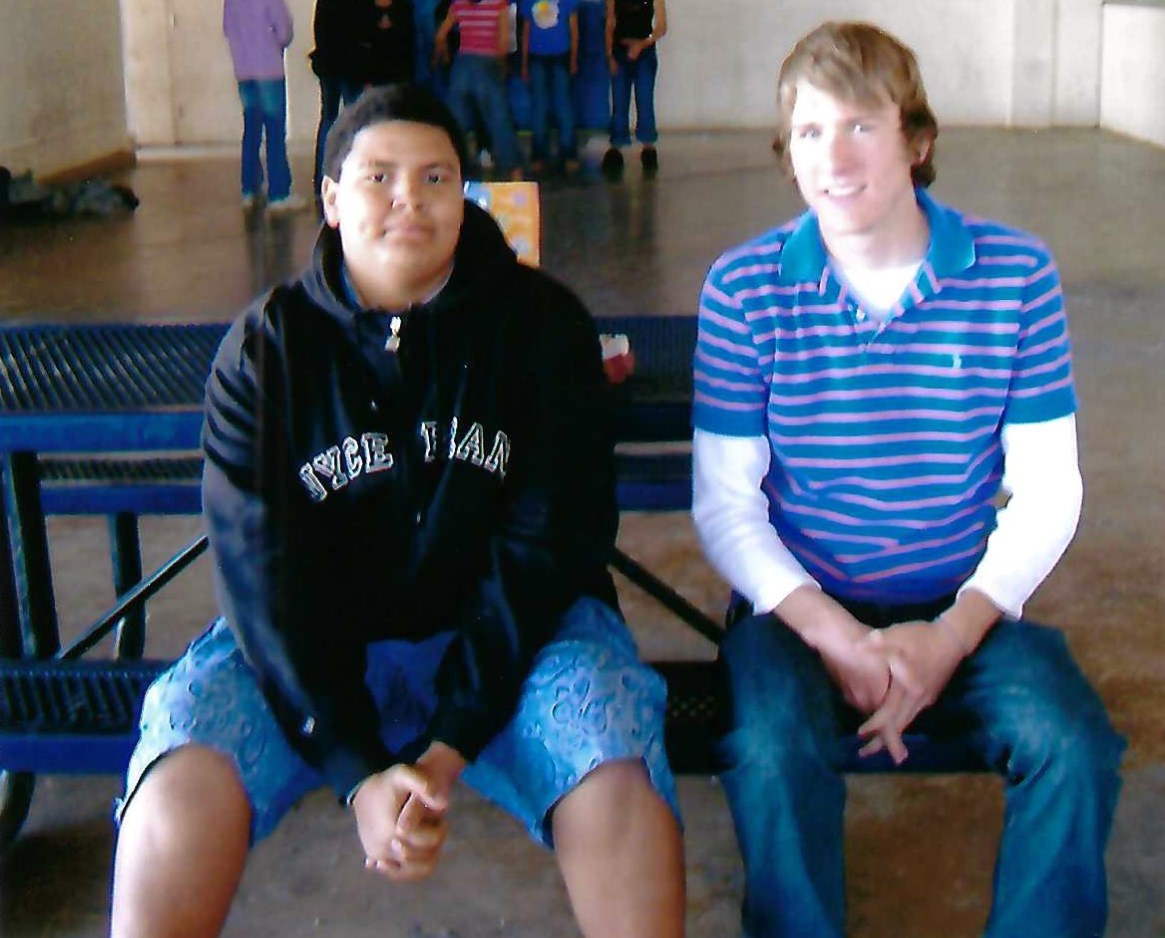 For seven years, from second through eighth grade, my son and I, individually and together, met with Markus. We would talk about school, read to each other, work on homework, play on the playground, and share dreams for the future (his was to be in the NFL!). We went on school outings together and celebrated birthdays and holidays. Whenever my son couldn't visit, he and Markus wrote letters to each other. When we were out of town for the summer we would leave him with a map showing the route/cities we would be in and sent him postcards from each stop so he would know that we were always thinking of him. Markus had become a constant in our lives and us in his. But when Markus graduated from Pappas and left for high school in 2006 we lost touch with each other.
In October of 2017, eleven years later, totally out of the blue my son received an email from Markus in his office in Seattle. "Hi, I don't know if you remember me, been a long time since we talked or have even seen each other, but wanted to say hi to you and your mom Andrea". Wow!
Elated to hear from him, I reached out and learned that he was still living in the Phoenix area. We arranged to meet for breakfast and over our three hours at iHop we talked as if no time had passed at all. He told me he had graduated from high school, is working for Verizon, and is renting a beautiful home in a nice suburb for his family who he loves more than anything. Markus is a wonderful father; he talks often about how dedicated he is to his children having a better life than he did. I am so proud of him! Several times during this initial meeting he mentioned that he had been wanting to reconnect and had been looking for us for a long time.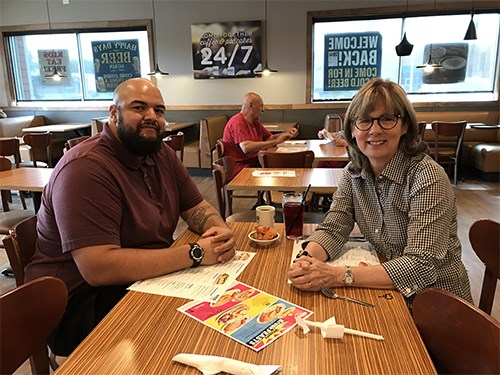 We have continued to meet regularly but now we talk about different issues – the joys and trials of parenting; his desire to own his own business one day; the necessity of financial planning in order to buy a house, put his children through college, and have a financially secure retirement. One of his children is autistic, something we share as my granddaughter is also on the spectrum, so we talk about the challenges of IEPs, pushing for schools to provide appropriate resources, how much extra time and effort his son demands, and envisioning options for his future.
Despite how hectic his life is, it's important to Markus to make a difference in his community. He always offers to help me if I need something. He's seen a lot of tragedy and doesn't take life for granted. He often says, "I could easily have been dead by now". He feels blessed to be alive and makes the most of every day.
Sadly, his father was murdered (beaten to death) in California but he's very close to his siblings. He is also close with his mother, who has an apartment, a job at a hospital, and has been sober for ten years.
All in all, not bad for a 30-year old formerly homeless young man!
There is no doubt in my mind that God put the two of us together for a reason 22 years ago. Two strangers, randomly assigned to each other, whose lives could not have been more disparate. I am convinced that we will now be connected to each other for the rest of my life.
***
How has my relationship with Markus influenced me? One word – hope. I believe, because I've seen, that every child---no matter the circumstances---can succeed. I'm not saying that it's easy, it's certainly not. Within our current system, the odds are stacked against our most under-resourced youth. But as my husband always says to our son, "Anything worth having is hard, because if it were easy everyone would do it".
For Markus, what made the difference was his inner drive, a commitment to graduating from high school, a belief that it was possible to take a different path, and the perseverance to do so. Certainly, some luck as well. And I like to think a bit of love and caring from a compassionate community member.
Markus, and all the other poor, Hispanic, and African-American students I have mentored over the years, is why I am so passionate about:
Providing an equal, first-class education to all students
Raising academic expectations and achievement

Not graduating students who can't read, write, and compute at grade level (with significant disabilities taken into consideration)

Helping every student achieve long term happiness and success by finding their passion, building their strengths, and developing and executing a personalized roadmap to the future they desire
Not pushing every student into a four-year university. Rather making it culturally acceptable to take pathways through community colleges, certificate programs, trade schools, the military, etc. where students can be successful, achieve steady income earlier, and reduce debt
The power of an objective, caring, adult advocate (often not a parent) in the life of every young person
Markus is why I continue to do all that I can to nurture young people and work toward providing a quality education for all. As is often said, and is so true, I have gotten back FAR more than I have ever given!